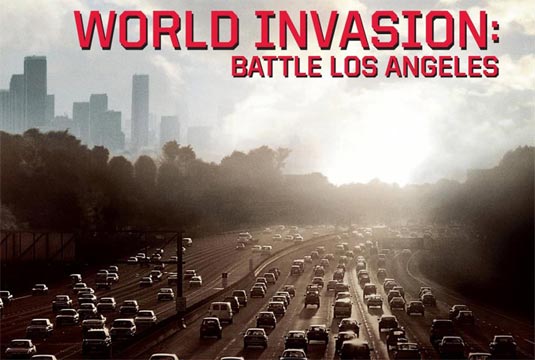 Check out the new
World Invasion: Battle Los Angeles
poster which will be released on March 11 by Columbia Pictures.
Synopsis:
For years, there have been documented cases of UFO sightings around the world – Buenos Aires, Seoul, France, Germany, China. But in 2011, what were once just sightings will become a terrifying reality when Earth is attacked by unknown forces. As people everywhere watch the world's great cities fall, Los Angeles becomes the last stand for mankind in a battle no one expected. It's up to a Marine staff sergeant (Eckhart) and his new platoon to draw a line in the sand as they take on an enemy unlike any they've ever encountered before. The film stars
Aaron Eckhart, Michelle Rodriguez, Neil Brown Jr.,
Ramon Rodriguez, Bridget Moynahan, Noel Fisher, Ne-Yo, Lucas Till, Joey King, and
Michael Pena
.
Jonathan Liebesman
directs the action sci-fi with the script provided by
Scott Silver
and
Christopher Bertolini
. Are you looking forward to
World Invasion: Battle Los Angeles
?
World Invasion: Battle Los Angeles