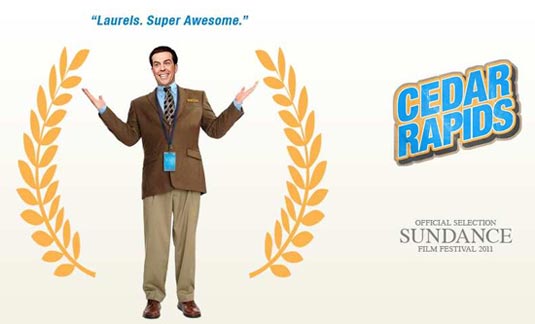 Here's the new clip  for
Ed Helms
' latest comedy movie,
Cedar Rapids
.
Synopsis:
Tim Lippe (Helms) was the guy people always thought would go places but then he just … didn't. He's been living in über-sleepy Brown Valley, Wisconsin his whole life, still "pre-engaged" to his 7th grade teacher Millie Vanderhei (
Sigourney Weaver
), while selling insurance to protect other people's dreams. But now, Tim's stalled life is about to get a kick-start because, for the first time in his 34 years, he's headed to a "major" metropolis – Cedar Rapids, Iowa – where he must try to save his company at a do-or-die insurance convention that, for him, will be entirely nonconventional. From the minute he checks into his hotel with his ancient American Tourister and cummerbund money-belt, it's clear Tim has no idea how the modern world really works. He is soon smitten with seductive Nebraskan insurance agent Joan (
Anne Heche
) and awed by his experienced roommates, the straight-shooting Wilkes (
Isiah Whitlock Jr.
) and the suspicious Zeigler (
John C. Reilly
).Disheartened when he comes face-to-face with corporate corruption, Tim is ultimately lured beyond the lobby into an urban jungle he's only ever seen on DVD and when it seems his life – and chances to succeed – have gone completely topsy-turvy, he finds his own unjaded way to turn it all around. The film, directed by
Miguel Arteta
(Youth in Revolt, The Good Girl), also stars
Stephen Root, Alia Shawkat, Mike O'Malley, Rob Corddry
, and
Seth Morris
.
Cedar Rapids
has a limited release in the US on February 11th, 2011.