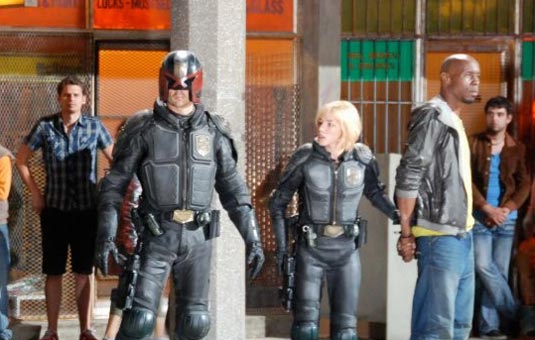 Two new set photos from Lionsgate's Judge Dredd film adaptation simply titled
Dredd
have been posted online. The
Pete Travis
-directed quasi-remake stars
Karl Urban
("Star Trek," "The Lord of the Rings") as the titular judge/jury/execution​er,
Olivia Thirlby
as Cassandra Anderson,
Lena Headey
as Madeline 'Ma-Ma' Madrigal,
Domhnall Gleeson, Santi Scinelli, Jason Cope
, and
Deobia Oparei
. The film is set in a violent future where laws have begun to crumble and it becomes the responsibility of the police to prevent and punish crime. The story follows one particular police officer, Judge Dredd, teams up with a young agent named Cassandra Anderson (Thirlby) to hunt down a dangerous, reality-bending drug called SLO-MO. Dredd comes to theaters September 21st, 2012.