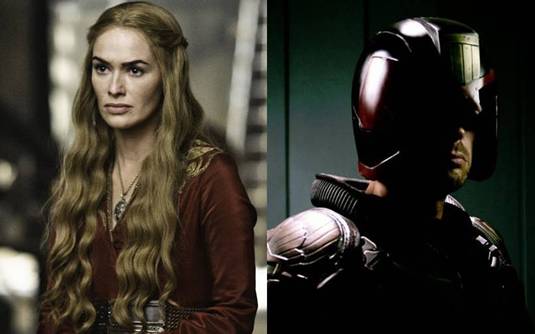 The most iconic creation of the British comics scene, Judge Dredd first premiered in March 1977 and a remake of the 1995 Sylvester Stallone film Judge Dredd is coming in his 35th anniversary, September 21st this year! Directed by Pete Travis and starring Karl Urban the film also appears Game of Thrones Lena Headey as Madeline 'Ma-Ma' Madrigal. The L.A.Times and Headey sat down to talk about 'do-over adaptation' of this new Dredd, including a new photo of her as a middle-aged villain, who has a hatred of men. Headey said of her role:
She's a prostitute who then kills her pimp and takes over his drug-running business. And Ma-Ma is a bit of a man-hater.I think of her like an old great white shark who is just waiting for someone bigger and stronger to show up and kill her,"
Headey continued:
She's ready for it. In fact, she can't wait for it to happen. And yet no one can get the job done. She's an addict, so she's dead in that way, but that last knock just hasn't come. This big, fat, scarred shark moving through the sea and everyone flees and she's like, 'Will someone just have the balls to do it? Please?'
Now I have no doubt how insanely badass her character is going to be in this film. In addition, Ma-Ma runs the Peach Tree City Block gang, and clashes with the title character. The script comes from Alex Garland (28 Days Later) and Dredd also stars Olivia Thirlby, Jason Cope, Warrick Grier, Joe Vaz, Langley Kirkwood, Deobia Oparei and Francis Chouler. Here's a new image of Lena Headey plus some more images below via Kinopoisk.