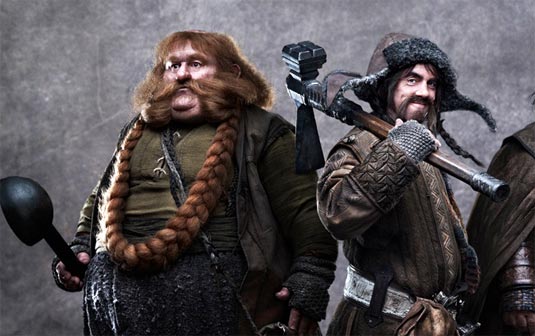 A new image that features three more dwarf characters, Bofur, Bombur and Bifur, of upcoming
Peter Jackson
-directed prequel to Lord of the Rings, 
The Hobbit: An Unexpected Journey
" has been unleashed. Played by
Stephen Hunter
(Bombur,)
James Nesbitt
(Bofur) and
William Kircher
(Bifur), these three dwarves will aid Bilbo in his upcoming journey across the globe. Bofur is the cousin of Bifur and brother of Bombur Here's the official character description:
While most of the Company of Thorin Oakensheild is related to the royal and noble line of Durin, Bofur, his brother Bombur and their cousin Bifur most definitely are … not. Born and bred in the West, descendants of coal miners and iron workers, they have joined the Quest for the Lonely Mountain partly to seek their fortune and partly because they were told the beer was free
Take a look at the full image after the jump and keep your ears and eyes open for more glimpse at The Hobbit in the coming months leading up to the film's release. This next adventure within J.R.R. Tolkien's middle earth stars
Andy Serkis, Ian McKellen, Martin Freeman, Richard Armitage, Rob Kazinsky, Aidan Turner, Graham McTavish, John Callen, Stephen Hunter, Mark Hadlow, Peter Hambleton, James Nesbitt, Adam Brown, Cate Blanchett, Ken Stott, Sylvester McCoy, Mikael Persbrandt, Ryan Gage, Jed Brophy, William Kircher, Saoirse Ronan, Elijah Wood
and
Bret McKenzie
. Jackson is back behind a 3D camera this time around, based on a screenplay he wrote with Fran Walsh, Philippa Boyens and Guillermo del Toro. The first film, "The Hobbit: An Unexpected Journey," will be released on December 14, 2012 in 2D and 3D. [Source:
IGN
] Follow
FilmoFilia on Twitter
and
FilmoFilia on Facebook
for the latest news and buzz.
Bofur, Bombur and Bifur, "The Hobbit: An Unexpected Journey"