Movie Posters
New Hong Kong Trailer and Posters For Chinese Fantasy PAINTED SKIN: THE RESURRECTION
With the
Wuershan
-directed fantasy
Painted Skin: The Resurrection
drawing positive reviews from it's world premiere at the Shanghai International Film Festival a new, subtitled trailer has arrived online to promote the upcoming Hong Kong release. A sequel to the original
Painted Skin
in name and cast only – there are no direct story links – the film is a fantasy spectacle, the story of a beautiful fox spirit who enters into a bet with a disfigured woman for the affections of her lover.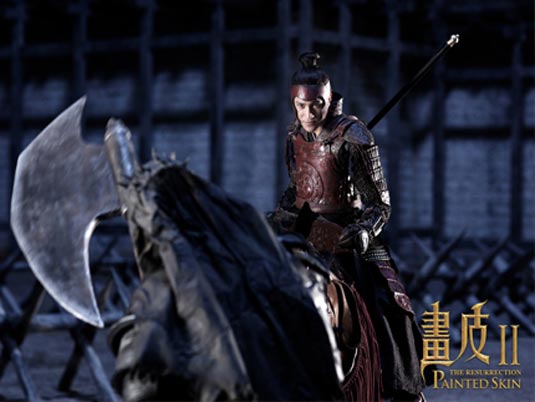 Wuershan is one of the stronger visual directors in Asia and there is certainly plenty of eye candy on display, if judging by the trailer. Check it out below. [youtube]http://youtu.be/AB8nGjV7PNQ[/youtube] I myself am enamored with the Asian mythos and folklore so much, and I was very happy when the first trending movies started appearing worldwide – I could find some of them before, too, but not without the difficulties – because it is a really fertile ground for excellent fantasy-or-action-themed movies, they only need more directors like Wuershan, Ang Lee (surely you remember Crouching Tiger, Hidden Dragon and yes, it can be considered fantasy – have you seen how big leaps those people make?) or Akihiko Shiota (Dororo), Yimou Zhang (House of Flying Daggers), Ten Shimoyama (Shinobi) or why not, the animation masters like Hayao Miyazaki. Anyway, Painted Skin 2 stars
Xun Zhou
,
Kun Chen
and
Wei Zhao
.
Painted Skin: The Resurrection
will hit limited theaters in the U.S. on August 17th, 2012.