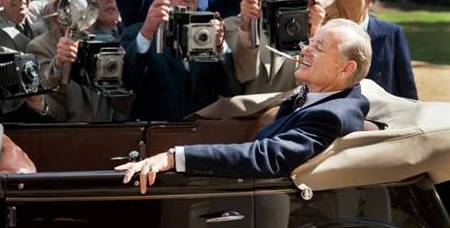 Focus Features ramps up for its 10th anniversary and will release Hyde Park on Hudson on December 7th 2012 with Bill Murray as Franklin D. Roosevelt. This project will most probably be Focus Features' top Oscar contender in the 2013 Oscar Race, as Tinker, Tailor, Solider, Spy was released on the same weekend last year.
Directed by Roger Michell (Morning Glory) and written by Richard Nelson, who adapted his own 2009 BBC radio play, the story centers on a rather curious moment in FDR's life. The movie takes place on the June 1939 weekend when the British King and Queen visited his upstate New York home, and will clarify the mystery surrounding his affair with his distant cousin Margaret Stuckley.
Olivia Williams plays FDR's wife, Eleanor, with Laura Linney as Margaret, while British thesps Samuel West and Olivia Colman will portray King George and Queen Elizabeth.
Could Bill Murray be getting ready for another trip to the Oscars after his turn in Focus' Lost in Translation landed him an Oscar nod back in 2003, we'll have to wait and see. What I see now is that Murray looks great as our nation's 32nd president.
Check it out and see for yourself.