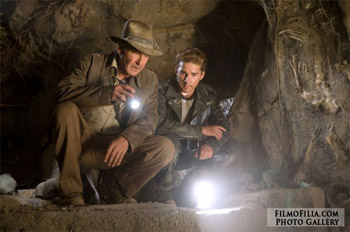 Producer Frank Marshall has claimed that the new Indiana Jones movie is most similar to the third movie in the franchise, Indiana Jones and the Last Crusade.Marshall admitted that the humour in the new film, Indiana Jones and the Kingdom of the Crystal Skull, matched up to Crusade more than than the first two action adventures.
"We have all the iconic elements we had in the first three," he told Empire.
"I would say it's closest to the third one. It's all adults. I mean, you have the sidekick in Shia (LaBeouf), but you don't have a Short Round, and I think the banter between the characters is as fun as it was in the third movie."
Internet rumours have suggested that LeBeouf's character will be the estranged son of Indiana from his one-night stand in Raiders Of The Lost Ark, but Marshall refused to confirm or deny the reports.
Talking about LeBeouf's role, he told the magazine: "He brings a youthful arrogance that Indy can play off and there's a lot of banter between the two of them.
"Think American Graffiti. There's a hot rod and there's a greaser on a bike."