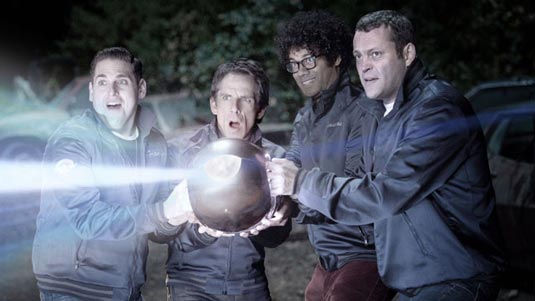 If I remember well, we wrote earlier about its unfortunate timing regarding its subject, so we thought that the Fox forgot about this one and its promotion since it had a really bland poster, but it seems that things are finally starting to heat up.
Twentieth Century Fox has released a described-as-funny new international trailer for The Watch, but if I'm going to judge a film by its trailer, then I'm in for an hour and a half of not-so-funny movie.
I mean, there was a few jokes that I smiled at, but that's it. And it doesn't help that one of the actors is at the same time one of the two I can't stand to see in the movies (Jonah Hill and Zach Gali… something Greek… Galifianakis – if you really wonder). Which would be a shame, because Ben Stiller had some really good, funny movies, Tower Heist being the last, I think – I loved it, by the way.
Sorry, guys, but I am just not wired to the kind of humor ('toilet-humor' or 'jack-ass humor') those two are representing, but as always, I am open to positive surprises. See for yourself:
[youtube]http://youtu.be/BpjuIy_JReU[/youtube]
This R-rated sci-fi comedy is centered on a group of neighbours who assemble the 'neighbourhood watch' that serves as a front for dads to get some male-bonding time away from their families, but after stumbling upon an alien invasion plot, they find themselves into a bit more trouble than they signed up for.
The Watch will have its release on July 27th, 2012. Directed by Akiva Schaffer, based on a story by Jared Stern and scripted by Seth Rogen and Evan Goldberg, it also stars Vince Vaughn, Rosemarie DeWitt, Richard Ayoade, Will Forte and Billy Crudup.