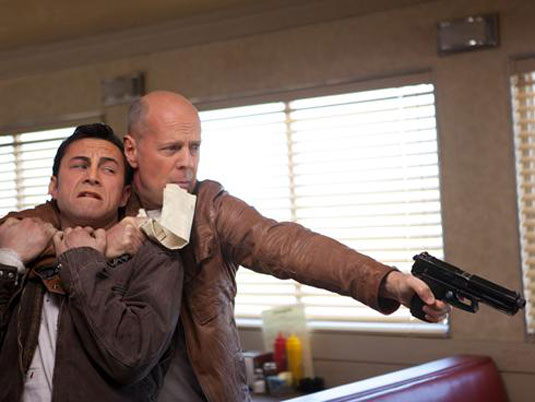 All eyes on some cool new images from the upcoming futuristic thriller
Looper
, ok?
Rian Johnson
's latest movie is definitely worth your full attention, and you're about to see why. Not only that we have an awesome cast involved in the whole thing, but we also have an exciting story which will show us that time travel can get a pretty messy sometimes… Looper stars
Joseph Gordon-Levitt
as Joe, a hitman who will have to murder the target and dispose of the body so it doesn't exist in the future.
Of course that's possible thanks to the above mentioned time travel thing, which is illegal but it's still a great way for criminal organization to dispose of enemies. And it looks that Joe has nothing against it, until the day the mob decides to "close the loop," sending back Joe's future self (played by
Bruce Willis
) for assassination. Guess that's exactly where the fun starts with Looper. At least, that's what these new images show us – Willis fights with the younger version of himself in order to save the same ass. Or, something like that…
Anyway, the rest of the Looper cast includes
Emily Blunt, Paul Dano, Piper Perabo
and
Jeff Daniels
. The movie is set to open on September 21st, 2012! Let us know what you think about it, and stay with us!