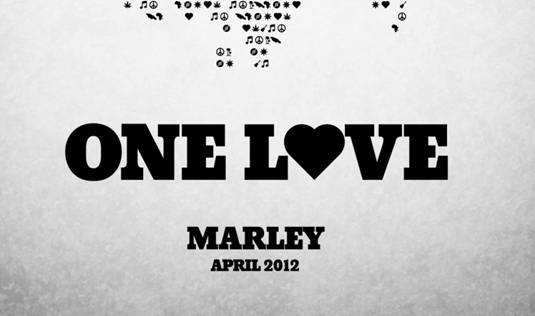 The alternative Marley poster, designed by Swedish artist Viktor Hertz has been launched with only weeks away from the official public premiere. The Magnolia Pictures film opens in theaters and VOD on April 20th, directed by Academy Award-winning director Kevin Macdonald. Hertz unveiled the poster design:
The idea behind the pictogram mosaic portrait, is to somehow show the complexity and all the different things that made the man behind the music. For example, I inserted 11 baby pictograms in the mosaic, depicting his 11 (official) kids, and also a football player and a gun chamber (depicting the two gun wounds he got). There is also a van (which I saw in the movie trailer, actually) hidden somewhere".
No matter what your opinion is on Bob Marley and Reggae the fact is that his music and message has transcended different cultures, languages and creeds to resonate around the world today as powerfully as when he was alive. Marley was originally supposed to be directed by Jonathan Demme (Silence of the Lambs). The film first premiered at TIFF last year.
One love, One heart Let's get together and feel all right …
Take a look!