Following the first image of Vin Diesel on the set of Riddick 3, comes new shot that shows Riddick crouched and ready for action. We haven't seen Vin Diesel take on the role of Riddick since 2004 and The Chronicles of Riddick, but the actor is currently shooting the film under the direction of David Twohy, who had helmed the previous Riddick outings Pitch Black and The Chronicles of Riddick. Diesel is this time joined in the film by Battlestar Galactica's Katee Sackoff, Jordi Molla and Nolan Funk, whilst Karl Urban will also reprise his role as Lord Vaako. Synopsis:
Betrayed by his own kind and left for dead on a desolate planet, Riddick (Diesel) fights for survival against alien predators and becomes more powerful and dangerous than ever before. Soon bounty hunters from throughout the galaxy descend on Riddick only to find themselves pawns in his greater scheme for revenge. With his enemies right where he wants them, Riddick unleashes a vicious attack of vengeance before returning to his home planet of Furya to save it from destruction.
Filming on The Chronicles of Riddick: Dead Man Stalking, which opens in 2013, recently resumed, after a two-month hiatus and Diesel is giving fans little picturing treats through his Facebook page.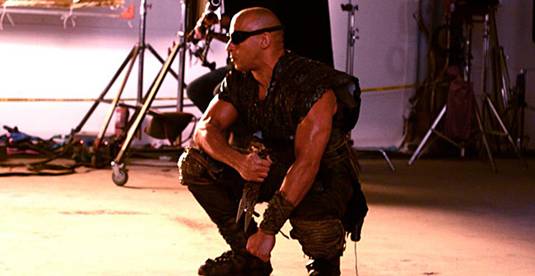 New Riddick Shot

 Source: Collider