Movie Photos
NEW Set Photos From HORNS, Starring Daniel Radcliffe!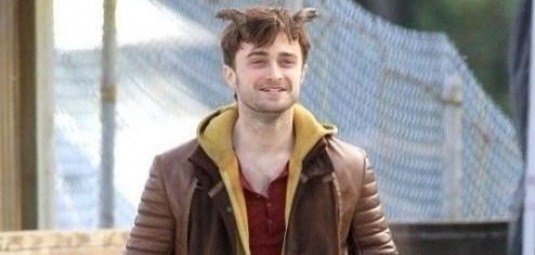 Few days ago we shared the first image of Daniel Radcliffe who stars in the upcoming Horns movie, and I'm sure you loved his new devilish style. That's why we're here today to update our (still) little gallery of Alexandre Aja's new supernatural thriller that is driven by fantasy, mystery and romance. That, my friends, sounds like one hell of the combination to me! Horns is still fresh project, so I should better remind you that Keith Bunin is behind the script which centers on Radcliffe's character – Ig Perrish, the number one suspect for the violent rape and murder of his girlfriend, Merrin. Juno Temple is on board to play his girlfriend, and the rest of the story goes like this:
Hungover from a night of hard drinking, Ig awakens one morning to find horns starting to grow from his own head and soon realizes their power drives people to confess their sins and give in to their most selfish and unspeakable impulses – an effective tool in his quest to discover the true circumstances of his late girlfriend's tragedy and for exacting revenge on her killer.
The rest of Horns cast also includes Joe Anderson, Kelli Garner, Max Minghella and James Remar. Any thoughts about this one so far?