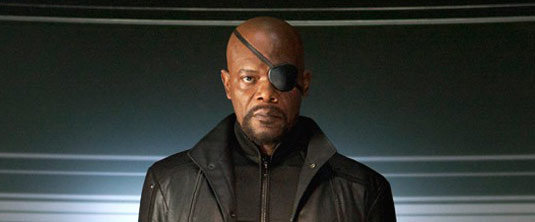 We're here to update our
The Avengers
gallery with some great new hi-res images from the upcoming
Joss Whedon
's movie. There's actually nothing special about these new images, except of course we have a better look at
Samuel L. Jackson
and his Nick Fury character and a new photo of Bruce Banner and Tony Stark. Hope you'll enjoy.
As you already know, Marvel's The Avengers is the superhero team up of a lifetime. When an unexpected enemy emerges that threatens global safety and security, Nick Fury, Director of the international peacekeeping agency known as SHIELD, finds himself in need of a team to pull the world back from the brink of disaster. Spanning the globe, a daring recruitment effort begins.
The Avengers stars
Robert Downey Jr., Chris Evans, Mark Ruffalo, Chris Hemsworth, Scarlett Johansson, Jeremy Renner, Tom Hiddleston, Stellan Skarsgard, Samuel L. Jackson
and is set to hit the theaters on May 4th, 2012.