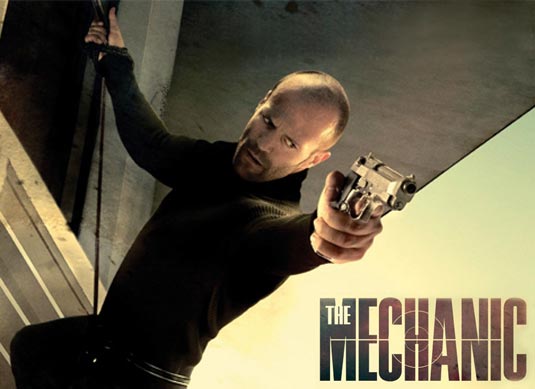 Check out new movie poster for the upcoming action remake,
The Mechanic
, starring
Jason Statham, Ben Foster, Donald Sutherland, Jeff Chase, Christa Campbell, Liam Ferguson, Eddie J. Fernandez
and
J.D. Evermore
. A remake of the 1972 Charles Bronson pic,
The Mechanic
finds The Statham as the unlikely-named Arthur Bishop. While he sounds like he should be a frustrated house-husband in an Australian soap, he's actually a top hit man ("mechanic" is a slang term for the job, which involves fixing slightly more morally complicated problems than a worn fan belt.) Arthur does his best work alone, but then, after someone close to him is taken out, he finds an apprentice in the man's son, Steve (Ben Foster). And soon the pair is on a revenge mission against those responsible. Cue lots of shooting, lots of explosions and lots of Statham growling "I'm coming for you!" in his inimitable style. In case you haven't already watched it, check out
The Mechanic trailer
. The film, directed by Simon West (Con Air), has a release date of January 28, 2011.
What do you think about the new posters? Looking forward to The Mechanic
?
The Mechanic Poster