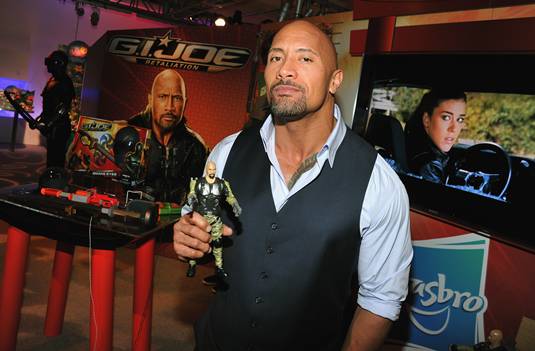 Hey guys, here's the second trailer for Jon Chu's G.I. Joe: Retaliation movie. No doubt, the sequel looks even better that a Rise of Cobra live-action adaptation a few years back. As you know it's rocking such a great cast which includes actors like Dwayne Johnson, Adrianne Palicki, Channing Tatum, Walton Goggins, Ray Park, Byung-hun Lee, Elodie Yung, RZA, Ray Stevenson, and D.J. Cotrona. During a recent interview with Collider, Johnson revealed what he wanted to accomplish with the G.I. Joe sequel:
I trained my ass off for this role, wanted to become Roadblock, wanted to pay homage to the mythology of G.I. Joe, and not only that but then pay honor and respect to our military in a real way where it's gritty and rooted and grounded and boots to the ground, and we're not shootin' off lasers and shit; these are real rounds.
Awesome! As for 'The Rock,' he is now so excited for Michael Bay's Pain and Gain, of course. I want to highlight that G.I. Joes are not only fighting their mortal enemy Cobra; they are forced to contend with threats from within the government that jeopardize their very existence.
There's a reason we call ourselves Joes.
[jwplayer mediaid="99529″] G.I. Joe: Retaliation starting on March 28th, 2013.