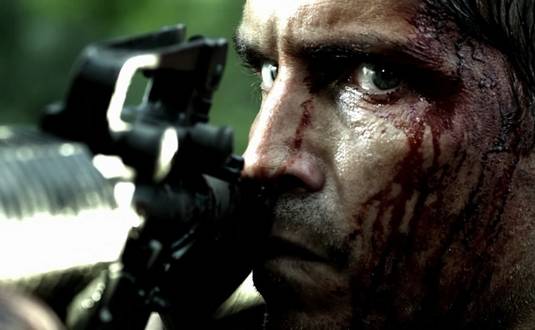 A man who once played Jesus in Mel Gibson's film The Passion of The Christ,
Jim Caviezel
is now starring in one of the films in the After Dark Action series called
Transit
. Transit, a high-octane, explosive actioner from legendary action producer
Joel Silver
(Die Hard, Lethal Weapon, The Matrix) also starring
James Frain
(Tron: Legacy, True Blood),
Elisabeth Rohm
(Abduction, Heroes),
Diora Baird
(30 Days of Night, Texas Chainsaw Massacre: The Beginning),
Harold Perrineau
(Lost, The Matrix Reloaded) and is helmed by
Antonio Negret
(Seconds Apart). Here's the plot:
The family camping trip was meant to reunite the Sidwell family. It's not. After being imprisoned for tax evasion, Nate Sidwell (Caviezel) has lost the respect of his wife and his children. Then, when he suspects their truck is being followed, he gets arrested for aggressive driving and has to spend a night in jail. Just when it seems the trip cannot get any worse, the Sidwells discover $4,000,000 cash in their luggage rack, and that Nate was wrong. They aren't being followed. They're being hunted – by four ruthless killers, who will stop at nothing to retrieve their millions.
Transit is set to hit theaters on May 11th, 2012 in limited release, of course. Check out the UK trailer – flick will arrive in UK&Irish cinemas for a short run on April 20th before heading to DVD and Blu-Ray May 7th. [youtube]http://www.youtube.com/watch?v=bu6U93bQBCM[/youtube]