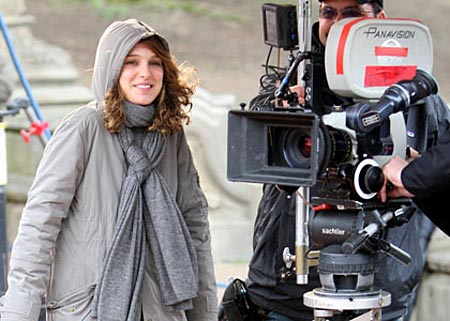 Take a look at the promo trailer for "
New York, I Love You
" from the producer of "
Paris, je t'aime
" that opened the 2006 'Un Certain Regard' section of the
Cannes Film Festival
. "New York, I Love You" is a collection of 12 short films that will be a cinematic love letter to the Big Apple.
Natalie Portman and Scarlett Johansson are making their directorial debuts and helming their own segments. Portman also plays a Jewish bride.
Shia LeBeouf with Julie Christie and John Hurt is in a segment scripted by the late Anthony Minghella, which he was also set to direct until his death. He is replaced by Shekhar Kapur. Hayden Christensen, Rachel Bilson, Chris Cooper, Anton Yelchin, Ethan Hawke and Kevin Bacon will take acting roles, whilst X-Men 3 helmer Brett Ratner will direct a segment. The directors are
Yvan Attal, Allen Hughes, Shunji Iwai, Wen Jiang, Scarlett Johansson, Joshua Marston, Natalie Portman, Brett Ratner, Andrei Zvyagintsev
.
Segment "Chinatown" is directed by Fatih Akin; segment "Upper East Side" – Shekhar Kapur; segment "Kosher Vegetarian" – Mira Nair and the director of the transitions is Randall Balsmeyer.
"New York, I Love You" starring:
Christina Ricci, Orlando Bloom, Hayden Christensen, Natalie Portman, Kevin Bacon, Justin Bartha, Rachel Bilson, James Caan, Bradley Cooper, Chris Cooper, Julie Christie, Shia LaBeouf, Taylor Geare, Ethan Hawke, Irfan Khan, Cloris Leachman, Drea de Matteo, Emilie Ohana, Maggie Q, Shu Qi, Olivia Thirlby, Eli Wallach, Saul Williams, Robin Wright-Penn, Anton Yelchin, Ugur Yücel, Carlos Acosta, John Hurt
… "New York, I Love You" arrives in theaters on February 13, 2009.