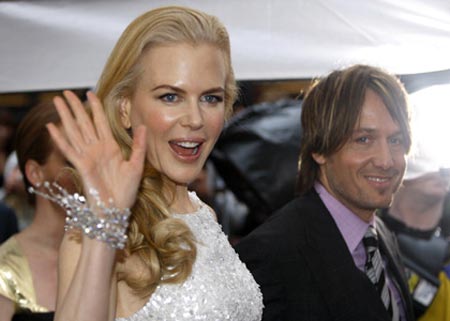 Nicole Kidman
has revealed that her role in
Baz Luhrmann
's new epic movie "
Australia
" may be her last, for she is not interested in making films any more. She told the
Telegraph
:
"I have to say I'm not that interested in making films any more," she said. "I know I'm not meant to say that, but that's where it is for me now. I'm 41 years old and very happy being in Tennessee with my baby and with my husband. I obviously have creative blood in me and it needs to come out in some way but I just don't have that burning desire any more."
She added:
"I'm not saying I'm never going to work again, but I'm at peace with whatever happens, which is a nice place to be at this stage of my life."
The actress had previously hinted that she might quit acting, however, she admitted that she could never completely rule out a return to Hollywood. It was her role in "
Dead Calm
" that proved to be her breakthrough role but it was her roles in "
Moulin Rouge
" and "
The Hours
" that brought her critical and commerical success, she recievved a
Best Actress Oscar
for her portrayal of Virginia Wolf in The Hours. But more recently box office success has been hard to come byfor the star with the likes of "
The Golden Compass
" and "
The Invasion
" both struggling at the box. She returns to the big screen this week with "Australia," her second collaboration with director Baz Lurhmann but this too has not been met well by the critics and is struggling to make back it's $130 million budget.