Movie Posters
Check Out: One-Sheet For PAIN & GAIN, Opening This Month!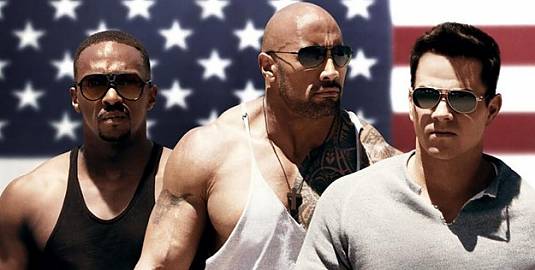 Two days ago we shared some cool
TV spots
for
Michael Bay
's upcoming
Pain and Gain
movie, which is set to hit theaters later this month,
remember
? Ok then, time for us to take another look at Wahlberg, Johnson and Mackie, 'cause a brand new
one-sheet
poster for the whole thing has arrived!
Michael Bay
directed the movie based on a true story, first told in an article from the
Miami New Times
which revolves around a group of bodybuilders who engaged in a campaign of kidnapping, extortion and murder in Florida. In other words –
their American dream is bigger than yours
! Let us once again remind you that
Mark Wahlberg
stars as Daniel Lugo, a regular bodybuilder who works at the Sun Gym along with his friend Adrian Doorbal, played by
Anthony Mackie
. Sick of living the poor life, he concocts a plan to kidnap a rich businessman Victor Kershaw, played by
Tony Shalhoub
, and extort money from him by means of torture. With the help of recently released criminal Paul Doyle, played by
Dwayne Johnson
, the
Sun Gym Gang
successfully gets Kershaw to sign over all his finances. But when Kershaw survives an attempted murder by the gang, he hires private investigator Ed Du Bois aka
Ed Harris
to catch the criminals after the Miami Police Department fails to do so.
Pain & Gain
is set to open on April 26th, 2013.