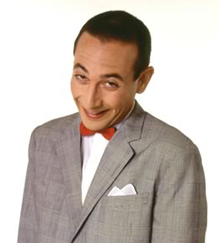 Paul Rubens
is actor, writer, and comedian, best-known for his character
Pee-Wee Herman
, and today we had a chance to hear he has joined the cast of Columbia Pictures/Sony Pictures Animation's hybrid live-action and animated family comedy,
The Smurfs
. If you already wonder who will he voice, then let's right now announce
Paul Rubens
will voice the character 'Jokey' Smurf in the big-screen adaptation of the animated 80's cartoon. So, basically, it's all about the cast in this one. And quite a long and interesting list, you must admit. Little reminder!
Neil Patrick Harris, Jayma Mays, Sofia Vergara
and
Hank Azaria
star on camera opposite an all-star voice cast.
Anton Yelchin
will play Clumsy Smurf, comedy legend
Jonathan Winters
, who voiced roles in the Smurfs television series, will voice Papa Smurf, Grammy-nominated singer-songwriter
Katy Perry
will play Smurfette,
Alan Cumming
will play Gutsy Smurf, SNL's
Fred Armisen
will voice Brainy Smurf and
George Lopez
will play Grouchy Smurf. In the live-action roles, Azaria will play the Smurfs' nemesis, the evil wizard Gargamel. Harris and Mays star as an expectant couple whose lives are turned upside down when the Smurfs cross over from their magical village to New York City. Vergara plays Odile, Harris's boss, a cosmetics executive. We're sure you already read about this, but let's remind you the film is directed by
Raja Gosnell
. The screenplay is by J. David Stem & David N. Weiss and Jay Scherick & David Ronn, based on the characters and works of Peyo. The producer is Jordan Kerner and Ezra Swerdlow, Ben Haber, and Paul Neesan are the executive producers. At the end, let's add that the film is set for release August 3, 2011. So guys, get ready for
the Smurfs
family!