Movie News
Penelope Cruz In Pirates of the Caribbean 4?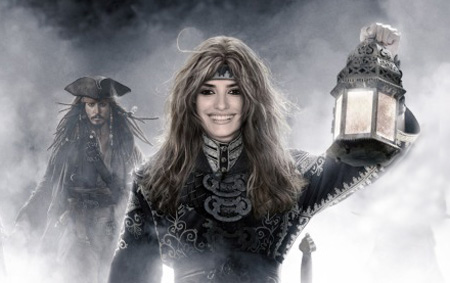 You like that gorgeous actress, with sparkly eyes and lovely spanish accent? Yeah, we ARE talking about Penelope Cruz.
Belt your seats people, she's coming! And this time, she's joining the crew of pirates!
So, we have Pirates, we have Caribbean Islands, stunning Johnny Depp, and now we have a rumor that Penelope is going to be the leading lady, in the fourth installment of the movie directed by Rob Marshall – Pirates of the Caribbean: On Stranger Tides.
We don't know much about who Cruz will be playing, but it is said that she is to be "Sparrow's foil and equal in many ways." Depp is reprising his popular role of Captain Jack Sparrow.
The Jerry Bruckheimer-produced film was written by Terry Rossio and Ted Elliot. While plot details are being kept secret, it is known the tale revolves around the Fountain of Youth.
The fourth installment is going before the cameras this summer in Hawaii, and is scheduled to hit theaters on May 20th, 2011.
The role reunites Cruz with Marshall, who directed her in "Nine." Her performance garnered her an Oscar nomination in the best supporting actress category just last week. She won the Oscar for best actress in a supporting role for 2008's "Vicky Cristina Barcelona."
Let us know what you think