We've been remiss in posting any recent updates for Joseph Ruben's new thriller called Penthouse North since it was first announced in 2011, but there's now an international trailer for a New York-set thriller starring Michael Keaton and Michelle Monaghan. The powerful presence of charismatic leads of Monaghan and Keaton's stature might lend this B-movie schlock some credibility.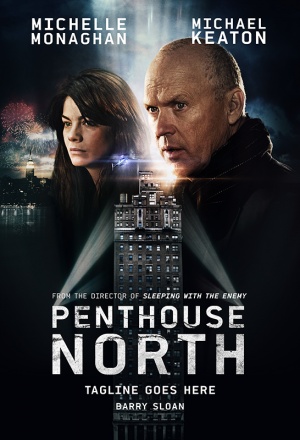 The story revolves around a supposedly blind photojournalist (Monaghan), who holes up in her swanky apartment, until a sadistic criminal (Keaton) comes looking for some diamonds. What happens next is a lot of Monaghan flailing around and falling down stairs. The film also stars Barry Sloane and Andrew W. Walker. The screenplay was penned by David Loughery (Nurse 3-D). No release date stateside yet, but it supposedly has a May 23rd, 2013 release date in Russia.
4Sara Taylor (Monaghan), a photojournalist blinded in Iraq, is forced to play a deadly game of cat and mouse with the sadistic criminal Hollander (Keaton) – a man who will stop at nothing to get a fortune of stolen diamonds hidden in Sara's penthouse apartment. Although Sara claims to not know where the diamonds are, Hollander utilizes psychological and physical torture in an effort to break Sara's resistance. But Sara fights back. As the suspense builds to a shattering climax, Sara gains the advantage. But will it be enough to save her?