Movie News
Piranha 3D Producer Responds to James Cameron
From time to time we get a chance to write about some hilarious stuff. Mostly thanks to
James Cameron
, and his interesting "
3D
point of view".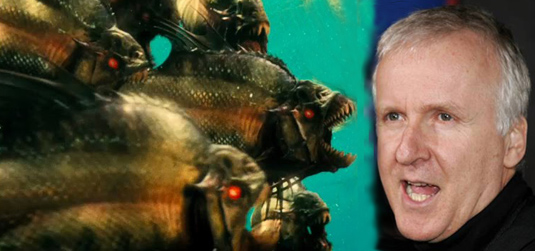 So, Cameron gave an interview to Vanity Fair in which he shared his opinion about the creators of
Piranha 3D
, calling them – creators of a fun movie. In response, the Piranha 3D's producers issued a statement, and…. well, then the shooting started, and trust us, you don't want to miss this. Here's the thing that bothers Avatar director: "It just cheapens the medium and reminds you of the bad 3D horror films from the 70s and 80s, like Friday the 13th 3D. When movies got to the bottom of the barrel of their creativity and at the last gasp of their financial lifespan, they did a 3D version to get the last few drops of blood out of the turnip." Ouch?! But wait! Then,
Mark Canton
, who served as a producer for the Alexandre Aja horror film, issued a public, and by the way, very long letter, addressed to Cameron. Here are the most interesting parts of it: "Mr. Cameron, who singles himself out to be a visionary of movie-making, seems to have a small vision regarding any motion pictures that are not his own. It is amazing that in the movie-making process – which is certainly a team sport – that Cameron consistently celebrates himself out as though he is a team of one. His comments are ridiculous, self-serving and insulting to those of us who are not caught up in serving his ego and his rhetoric…. Jim, are you kidding or what? First of all, let's start by you accepting the fact that you were the original director of Piranha 2 and you were fired. Shame on you for thinking that genre movies and the real maestros like Roger Corman and his collaborators are any less auteur or impactful in the history of cinema than you. My sense is that Mr. Cameron has never seen Piranha 3D …certainly not in a movie theatre with a real audience. Jim, we invite you to take that opportunity and experience the movie in a theatre full of fans – fans for whom this movie was always intended to entertain…. What it comes down to, Jim, is – that like most things in life – size doesn't really matter. Not everyone has the advantage of having endless amounts of money to play in their sandbox and to take ten years using other people's money to make and market a film….like you do…. We have to inspire, teach and mentor this next generation of filmmakers. It is garbage to suggest that any film or any filmmaker who cannot afford to work to your standards should be dissuaded from following his or her craft by not making 3D movies…" And, at the end, Canton said: "Please go see Piranha 3D in a theatre near you!" Now, that's what we call entertainment! Thank you, guys!