Movie News
Priyanka Chopra May Be Superman's new Love Interest !?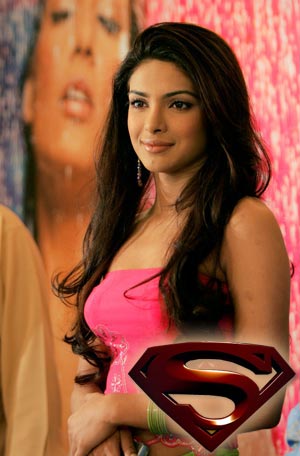 According to India's ZeeNews Superman will be courting a new love interest in 'The Man of Steel'. According to the report, Bollywood superstar Priyanka Chopra is "likely to play Superman's love interest in the…upcoming sequel." Officially, Chopra and the studios aren't saying anything, but according to sources the actress has been offered the role and has almost accepted. The role will be that of a lady scientist who will be romantically involved with the Man of Steel. Speaking to Spicezee, a source said,
"The filmmakers had been looking for an Indian face for quite long as the role is of an Indian scientist. When they came to know of Priyanka shooting in the US for Dostana, the director of Superman went to the shoot to judge her work."
Impressed by the sizzling beauty, Priyanka was offered the role. However, there is no official word out as yet. So will we see Priyanka playing a scientist and romance the world's best known superhero? Now that's whats called beauty with brains. And what about Lois Lane? Well, remember that in Superman Returns, it was established that Lois was engaged to another man, who she assumed was the father of her son. Few details are currently available for Superman: The Man of Steel, but it is known that Brandon Routh will return to his role as the Man of Steel and Bryan Singer will be back to direct. Kevin Spacey has also expressed an interest in returning as Lex Luthor.