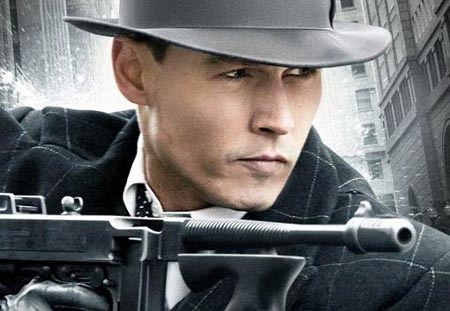 Universal Pictures has released a new featurette for the upcoming "
Public Enemies
" which stars
Johnny Depp
and
Christian Bale
among the others. Director
Michael Mann
talks about the character of John Dillinger and is joined by Johnny Depp and Christian Bale as well. Bale talks about Dillinger and how he became idolized in America. The film is based on
Brian Burrough
's book "
Public Enemies: America's Greatest Crime Wave and the Birth of the FBI, 1933-34
.″ The screenplay based on Burrough's book was adapted by
Ronan Bennett
. Later, Michael Mann and
Ann Biderman
wrote a revised screenplay before shooting.
Channing Tatum
plays outlaw Pretty Boy Floyd,
Giovanni Ribisi
– Alvin Karpis,
Stephen Dorff
– Homer Van Meter, and
Jason Clarke
stars as John "Red" Hamilton. That quartet comprised a Dillinger gang that knocked off banks all over the Midwest during the Depression.
Christian Bale
stars as Melvin Purvis, who was tapped by FBI chief J. Edgar Hoover to lead a manhunt that established the FBI as the country's first federal police force after the G-Men killed Dillinger outside the Biograph Theater in 1934. The movie which also stras
David Wenham, Marion Cotillard, Leelee Sobieski, Emilie de Ravin, Branka Katic
and
Billy Crudup
is set for release on July 1, 2009.