Movie News
Rachel Weisz, Daniel Craig And Naomi Watts To Star In "Dream House"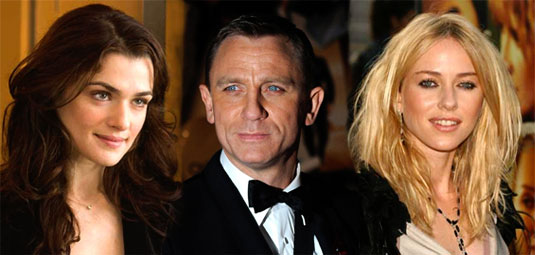 Principal photography has begun on Morgan Creek Productions' "Dream House", it was announced today by James G. Robinson and Rick Nicita, co-chairmen of Morgan Creek Productions.  Oscar winner Rachel Weisz has signed on to star in new thriller, which has also just cast Daniel Craig and Naomi Watts.
The film tells the story of a successful publisher (Daniel Craig) who quits a job in New York City to relocate his wife (Rachel Weisz) and two daughters to a quaint New England town. But as they settle into their new life, they discover their perfect home was the murder scene of a mother and her two children. And the entire city believes it was at the hands of the husband who survived. When Will investigates the tragedy, his only lead comes from a neighbor (Naomi Watts) who was close to the family that died. As Will and Ann piece together the disturbing puzzle, they discover that the story of the last man to leave Will's dream house will be just as horrifying to the one who came next.
"Dream House" will be directed by six-time Academy Award nominee Jim Sheridan ("My Left Foot," "In the Name of the Father"), produced by Morgan Creek's James G. Robinson along with David Robinson and Daniel Bobker & Ehren Krueger, and will be executive produced by Mike Drake. The screenplay was written by David Loucka. Universal Pictures will distribute the film in North America. Universal Pictures and Morgan Creek International will distribute internationally.
Daniel Craig made his debut as the sixth 'James Bond' in "Casino Royale," and reprised the role in "Quantum of Solace." Other film credits include "Defiance," "The Road to Perdition," "The Golden Compass," "Munich," and "Infamous."
Naomi Watts landed her breakthrough role when she was tapped by David Lynch to portray an aspiring starlet in "Mulholland Drive," which helped Watts emerge as an actress of force and presence in such critical and/or commercial hits as "The Ring," "King Kong," and "21 Grams," which earned her an Oscar nomination for Best Actress.
Rachel Weisz received an Academy Award and a Golden Globe for her supporting role in "The Constant Gardener," and can currently be seen in "The Lovely Bones" opposite Mark Wahlberg. She is known to audiences worldwide for her lead role opposite Brendan Fraser in the blockbuster movies "The Mummy" and "The Mummy Returns."
"Dream House" is filming on location in Toronto, ON.