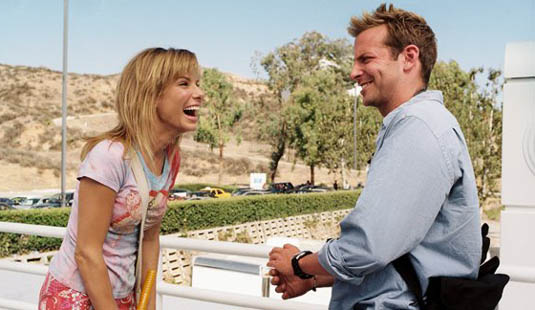 Razzie Awards 2010 winners have been announced.
The big "winner" was Transformers: Revenge of the Fallen, taking home three awards: Worst Screenplay, Worst Director and Worst Picture of 2009. Nominated twice in the past for worst director (Armageddon, Pearl Harbor), Michael Bay finally won the prize.
Sandra Bullock, nominated for a Best Actress Oscar at this year's Academy Awards for The Blind Side, won two – Worst Actress in All About Steve and Worst Screen Couple shared with Bradley Cooper.
Since this is the Razzies' 30th anniversary year, special awards were given for worst picture of the decade Battlefield Earth, based on the writings of Scientology creator L. Ron Hubbard.
Comedian Eddie Murphy and Paris Hilton were named the worst actor and actress of the 2000s, respectively.
The 2010 Razzie winners list:
WORST PICTURE
All About Steve (20th Century-Fox)
G.I. Joe: The Rise of Cobra (Paramount / Hasbro)
Land of the Lost (Universal)
Old Dogs (Disney)
Transformers: Revenge of The Fallen (Dreamworks/Paramount)
WORST ACTOR
All three Jonas brothers – Jonas Brothers: The 3-D Concert Experience
Will Ferrell – Land of The Lost
Steve Martin – Pink Panther 2
Eddie Murphy – Imagine That
John Travolta – Old Dogs
WORST ACTRESS
Beyonce – Obsessed
Sandra Bullock – All About Steve
Mylie Cyrus – Hannah Montana: The Movie
Megan Fox – Jennifer's Body" and "Transformers: Revenge of The Fallen
Sarah Jessica Parker – Did You Hear About The Morgans?
Bullock had said that she would accept her award in person if she won, and she was there showing good humor!
She arrived on stage pulling a wagon filled with DVDs of All About Steve.
"Something tells me you all didn't watch the film. I thought no one went to see this film, but I know that there are more than 700 members here. That means that the majority of the 700 cast their vote, so that means 352 …?"
She asked the audience members to watch it, rethink their decision and if they agree that she really wasn't that bad, "I will come back next year. I will give back the Razzie," she was great!
And, no, she doesn't deserve it! Especially not now – No performer has ever won a Razzie and an Oscar the same year.
On the other hand, Bullock already won Golden Globe award for the actress for The Blind Side. Despite her Golden Globe win, she insists she won't be taking home an Oscar at this year's Academy Awards.
[youtube]http://www.youtube.com/watch?v=adYced7GB8k[/youtube]
WORST SUPPORTING ACTOR
Billy Ray Cyrus – Hannah Montana: The Movie
Hugh Hefner (as Himself) – Miss March
Robert Pattinson – Twilight Saga: New Moon
Jorma Taccone (as Cha-Ka) – Land of The Lost
Marlon Wayans – G.I. Joe
WORST SUPPORTING ACTRESS
Candice Bergen – "Bride Wars"
Ali Larter – "Obsessed"
Sienna Miller – "G.I. Joe"
Kelly Preston – "Old Dogs"
Julie White (as Mom) – "Transformers: Revenge of The Fallen"
WORST REMAKE, RIP-OFF OR SEQUEL
G.I. Joe: The Rise of Cobra
Land of the Lost
Pink Panther 2
Transformers: Revenge of The Fallen
Twilight Saga: New Moon
WORST SCREEN COUPLE
Any two (or more) Jonas brothers – The Jonas Brothers 3-D Concert Experience
Sandra Bullock & Bradley Cooper – All About Steve
Will Ferrell & any co-star, creature or "comic riff" – Land of The Lost
Shia LaBeouf & Either Megan Fox or any Transformer – Transformers: Revenge of The Fallen
Kristen Stewart & either Robert Pattinson or Taylor Whatz-His-Fang – Twilight Saga: New Moon
WORST DIRECTOR
Michael Bay – Transformers: Revenge of The Fallen
Walt Becker – Old Dogs
Brad Silberling – Land of the Lost
Stephen Sommers – G.I. Joe
Phil Traill – All About Steve
WORST SCREENPLAY
All About Steve – Screenplay by Kim Barker
G.I. Joe: The Rise of Cobra – Screenplay by Stuart Beattie and David Elliot & Paul Lovett; based on Hasbro's "G.I. Joe"® Characters.
Land of the Lost – Written by Chris Henchy & Dennis McNicholas; based on Sid & Marty Krofft's TV series
Transformers: Revenge of The Fallen – Written by Ehren Kruger & Roberto Orci & Alex Kurtzman; based on Hasbro's Transformers Action Figures
Twilight Saga: New Moon – Screenplay by Melissa Rosenberg; based on the Novel by Stephenie Meyer
SPECIAL 30TH RAZZIE-VERSARY AWARDS
WORST PICTURE OF THE DECADE
Battlefield Earth (2000) – Nominated for 10 Razzies / "winner" of 8 (including worst drama of our first 25 years)
Freddy Got Fingered (2001) – Nominated for 9 Razzies / "winner" of 5
Gigli (2003) – Nominated for 10 Razzies / "winner" of 7 (including worst comedy of our first 25 years)
I Know Who Killed Me (2007) – Nominated for 9 Razzies / "winner" of 8
Swept Away (2002) – Nominated for 9 Razzies / "winner" of 5
WORST ACTOR OF THE DECADE
Ben Affleck – Nominated for 9 "achievements," "winner" of 2 Razzies for "Daredevil," "Gigli," "Jersey Girl," "Paycheck," "Pearl Harbor," "Surviving Christmas"
Eddie Murphy – Nominated For 12 "achievements," "winner" of 3 Razzies for "Adventures of Pluto Nash," "I Spy," "Imagine That," "Meet Dave," "Norbit," "Showtime"
Mike Myers – Nominated For 4 "achievements," "winner" of 2 Razzies for "Cat In The Hat," "The Love Guru"
Rob Schneider – Nominated For 6 "achievements," "winner" of 1 Razzie for "The Animal," "Benchwarmers, "Deuce Bigalo:" "European Gigolo," "Grandma's Boy, "The Hot Chick," "I Now Pronounce You Chuck & Larry," "Little Man," "Little Nicky"
John Travolta – Nominated For 6 "achievements," "winner" of 3 Razzies "Battlefield Earth, "Domestic Disturbance," "Lucky Numbers," "Old Dogs," "Swordfish"
WORST ACTRESS OF THE DECADE
Mariah Carey – The single biggest individual vote getter of the decade: 70+% of all votes for worst actress of 2001 for "Glitter"
Paris Hilton – Nominated For 5 "achievements," "winner" of 4 Razzies for "The Hottie & The Nottie," "House of Whacks," "Repo: The Genetic Opera"
Lindsay Lohan – Nominated For 5 "achievements," "winner" of 3 Razzies for "Herbie: Fully Loaded," "I Know Who Killed Me," "Just My Luck"
Jennifer Lopez – Nominated For 9 "achievements," "winner" of 2 Razzies for "Angel Eyes," "Enough," "Gigli," "Jersey Girl," "Maid In Manhattan," "Monster-In-Law," "The Wedding Planner"
Madonna – Nominated For 6 "achievements,""winner" of 4 Razzies for "Die Another Day," "The Next Best Thing," "Swept Away"
Feel free to share your thoughts with us