Movie News
Robert Redford in Talks to Join CAPTAIN AMERICA: THE WINTER SOLDIER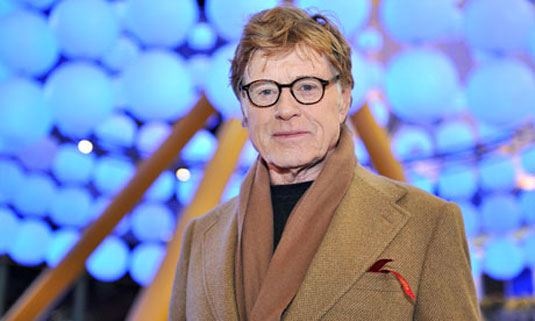 Now these are unlikely casting reports we hear today – namely, Robert Redford is in talks to join the cast of Captain America: The Winter Soldier as a "senior leadership role in S.H.I.E.L.D."
If it happens, Marvel will score big, as Redford has been sticking to acting exclusively in smaller indie films or his own directorial projects for the past few years; his last starring role in a Hollywood "mainstream" film (that he didn't direct) was Tony Scott's 2001 thriller, Spy Game.
I never saw him as a superhero flick-actor, but, since Kevin Feige recently described The Winter Soldier as a "political thriller," Redford should fit nicely in with the S.H.I.E.L.D. crew.
Deadline reports that, as S.H.I.E.L.D. has a presence in nearly all of Marvel's films, Redford is also likely to appear in films other than The Winter Soldier, which leads us to the natural conclusion that this might be setting the grounds for Redford's S.H.I.E.L.D. character to have a significant role in The Avengers 2, but then again, I might be overthinking; his character might die or something in the same film he appears.
It's no secret that Marvel likes to "nail down" their actors with multi-film contracts, but a deal with Robert Redford might be a wee bit different, I suppose – unless Redford gets to like his new-old spy role.
Production on The Winter Soldier is expected to start soon, with Chris Evans returning as the Cap, Samuel L. Jackson as Nick Fury, joined by newcomers Anthony Mackie as Falcon, Frank Grillo as Crossbones, Sebastian Stan as Bucky Barnes/Winter Soldier and Emily VanCamp as Sharon Carter. Brothers Joe and Anthony Russo will direct, and Captain America: The Winter Soldier is set for a 3D release on April 4th, 2014.
You might have gotten used to my 'little surprises' by now – and this time I am not sure if they are official or not (what else is new, huh), and I am completely buffled as to why would they use the Game of Thrones slogan (except from the apparent 'winter' connection, it is completely uninventive, let alone professional – of course, this stands if they happen to actually BE official). In any case, they look good, so enjoy checking them out: