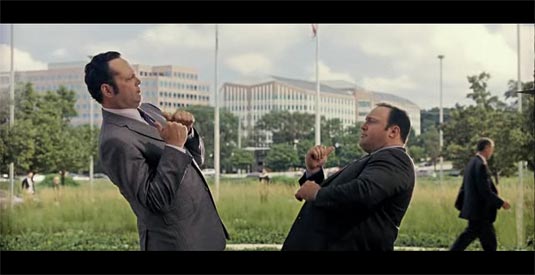 Yahoo Movies have debuted the second trailer the upcoming comedy The Dilemma. Here is a synopsis of the film: Vince Vaughn and Kevin James headline an all-star comedy from director Ron Howard and producer Brian Grazer about a man who finds out that what you don't say to a friend is just as important as what you do. Jennifer Connelly, Winona Ryder, Channing Tatum and Queen Latifah join them in The Dilemma, a story of how far you can bend a brotherly bond before it snaps. Since college, confirmed bachelor Ronny (Vaughn) and happily married Nick (James) have been through thick and thin. Now partners in an auto design firm, the two pals are vying to land a dream project that would launch their company. With Ronny's girlfriend, Beth (Connelly), and Nick's wife, Geneva (Ryder), by their sides, they're unbeatable. But Ronny's world is turned upside down when he inadvertently sees Geneva out with another man and makes it his mission to get answers. As the amateur investigation dissolves his world into comic mayhem, he learns that Nick has a few secrets of his own. Now, with the clock ticking and pressure mounting on the biggest presentation of their careers, Ronny must decide how and when he will reveal the truth to his best friend. According to Deadline.com protests led the studio into revising the trailer from September: The studio recently debuted the first official trailer and the reaction in Hollywood was dismay and disappointment. Not because it looks like a stinker. But because it uses the term "gay" as an insult right in the first scene. "Ladies and Gentlemen, electric cars are so gay," Vaughn's character tells a packed conference room to indicate his ridicule. GLAAD's statement:
"Last month, Universal shared a link to the trailer for the film The Dilemma with GLAAD. After reviewing, GLAAD called on Universal to remove the scene where the word 'gay' was used as a pejorative from the trailer. Today, after Anderson Cooper also spoke out against the scene, Universal confirmed to GLAAD that the offensive joke will be removed from promotional campaigns from this point forward, including in the trailer currently playing in movie theatres."
"The use of the word 'gay' in this trailer as a slur is unnecessary and does nothing more than send a message of intolerance about our community to viewers,"
said GLAAD President Jarrett Barrios. Universal's statement:
"The teaser trailer for The Dilemma was not intended to cause anyone discomfort. In light of growing claims that the introduction to the trailer is insensitive, it is being replaced. A full trailer, which has been in the works for some time, will post online later today."
The Dilemma comes to theaters January 14th, 2011.
Download The Dilemma trailer
HD-Quality 1080p [1920 px] − 211 Мb (QuickTime) HD-Quality 720p [1280 px] − 143 Мb (QuickTime) HD-Quality 480p [852 px] − 59 Мb (QuickTime)