Movie Photos
See How Bane Almost Looked Like in THE DARK KNIGHT RISES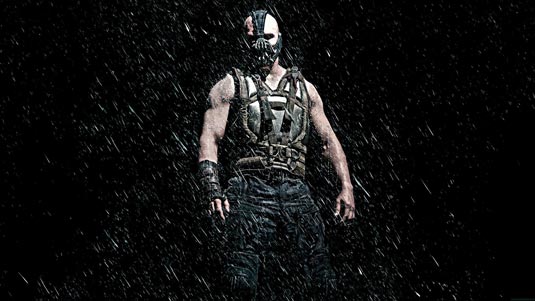 The Dark Knight Rises hit DVD and Blu-ray on December 4th (just in time for the holidays, yay! Have you grabbed yours already?) and a few early copies have leaked in advance of the official release. One of the behind-the-scenes documentaries, which are as usual included on the discs, shows off some behind-the-scenes photos of Tom Hardy as Bane plus some concept art on what Bane almost looked like. Because of his mask, we always knew that Bane was going to be a difficult character to adapt into Christopher Nolan's universe. (Remember how he looked like an awfully overblown Mexican wrestler in Batman and Robin?) But with all the options they had, it looks like Nolan and the crew made the best choice, indeed. None of the options below look like they would translate well and both of the "hood" designs look actually quite silly. You can also see the early sketch for the design they did use in the film to see how it evolved over development.
Another interesting photo is the shot of Tom Hardy as Bane before they digitally removed all of Hardy's tattoos. It might not have made sense with the character, but the tattoos actually make him look even more badass-y.
So what do you think? Let us know in the comments.