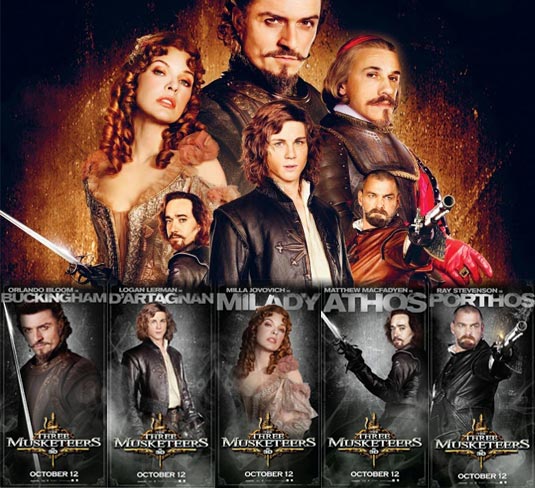 Today we six new posters for
The Three Musketeer
s. Check them all out below (click either for a larger version): The Three Musketeers ride again in this three-dimensional revamp from Impact Pictures and writer/producer
Paul W.S. Anderson
(Alien vs. Predator, Resident Evil). Percy Jackson & the Olympians'
Logan Lerman
toplines as D'Artagnan, the brash young man who bands up with the famed trio (
Luke Evans, Matthew Macfadyen
, and
Ray Stevenson
) to fight the corrupt the dreaded Cardinal Richelieu (
Christoph Waltz
).
Mads Mikkelsen
and
Milla Jovovich
co-star in the Summit Entertainment release. This latest adaptation of the Alexandre Dumas classic tale is based on a screenplay by Andrew Davies and Alex Litvalk.
The Three Musketeers
is set to be released October 14th.  If you haven't seen the
trailer
, check it out now!
Ray Stevenson as Porthos, The Three Musketeers
Milla Jovovich as M'lady De Winter , The Three Musketeers
Athos, D'Artagnan and Duke of Buckingham, The Three Musketeers (2011)