Movie Photos
SOLACE First Look: Starring Anthony Hopkins, Jeffrey Dean Morgan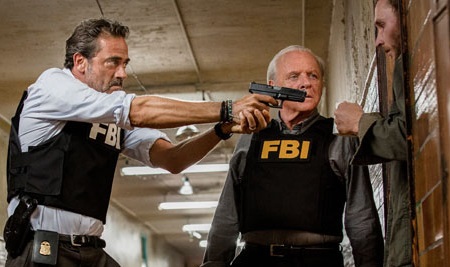 The indie supernatural thriller Solace is finishing shooting this week in Atlanta and just debuted a first look photo featuring Abbie Cornish, Jeffrey Dean Morgan and Anthony Hopkins. Afonso Poyart's supernatural thriller was written by Sean Bailey, Ted Griffin, James Vanderbilt, and Peter Morgan and also stars Colin Farrell as a killer with supernatural powers along with Marley Shelton, Xander Berkeley, Sharon Lawrence, Janine Turner and Matt Gerald. This time Hopkins is on the right side of the law as a former doctor and psychic crime analyst who comes out of retirement to help two FBI agents (Cornish and Morgan) solve a string of mysterious murderers. Says Poyart:
This film has the perfect balance of structure, story and strong characters. I was particularly attracted to the opportunity to explore the cinematic potential of the script and to step into the mind's eye of someone with psychic abilities, played by Anthony Hopkins, and visualize what he sees. Working with Tony, Jeff, Abbie and Colin has been a dream, and I couldn't ask for a better crew to bring it all together.
Hopefully this thing can be ready to premiere at Sundance 2014.