Movie News
Stephen Fry, Ryan Gage and Conan Stevens Join The Hobbit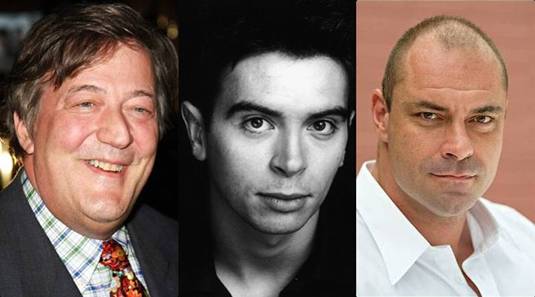 Hallelujah! The role of The Master of Laketown in The Lord of the Rings prequel belongs to Brit thesp Stephen Fry.
Yep, the Master of Laketown is the ruler of an outpost which served as a trading post between men, elves and dwarves in Tolkien's fictional universe.
Two other new cast members were Ryan Gage and Conan Stevens. Gage has been cast as Alfrid, the Master's underhanded civil servant, whilst Stevens has set for the role as Orc named Azgog.
Fry is, no doubt, multitasking person since he is an actor, screenwriter, author, playwright, journalist, poet, comedian, television presenter and film director, and even a director of Norwich City Football Club. Fry, who previously collaborated with Peter Jackson in a Dambusters movie, is also known in the UK for his audiobook recordings, such as reader for all seven Harry Potter novels. I'm surprised he didn't appear in the original trilogy.
Most recently, he has been seen in V For Vendetta, Alice in Wonderland and as Mycroft Holmes in Guy Ritchie's upcoming Sherlock Holmes: A Game of Shadows.
Ryan Gage has appeared on stage opposite David Tennant in Hamlet as well as in the hit show Ghost Stories. Giant Conan Stevens cropped up last Sunday as Gregor Clegane on HBO's Game of Thrones.
The Hobbit two films are scheduled for release in late 2012 and late 2013.
Here's Peter Jackson's full statement on the matter he posted on his Facebook page:
Some more HOBBIT casting news today. As we near the end of our first shooting block (we have a break in less than three weeks to get some editing and visual effects work done, plus prepare for very big scenes coming up), we are looking at characters featuring in sequences that take place a little later in the story.
We are thrilled to confirm that Stephen Fry will be playing The Master of Laketown. I've known Stephen for several years, and we're developing a DAMBUSTERS movie together. In addition to his writing skills, he's a terrific actor and will create a very memorable Master for us.
The Master's conniving civil servant, Alfrid will be played by Ryan Gage. Ryan is a great young actor who we originally cast in a small role, but we liked him so much, we promoted him to the much larger Alfrid part.
Last, and certainly not least, is Conan Stevens, who will be playing an Orc called Azog (Orcs are never called Roger or Dennis for some strange reason). And yes that's his name—Conan! Isn't that cool? Azog is played by Conan! Here's a photo of Conan and I together… I'm pretty tall, probably at least 6′5″ or 6′6″ I would guess, so that gives you some clue how tall Conan is! You can learn all about him at www.conanstevens.com.
Got a busy day's shooting ahead, so I'm about to jump in the car—but look out for the beginning of the 20 questions answers very soon. Thanks for the questions, many are very insightful. I've been through all of them and have a list ready to go.
Cheers,
Peter J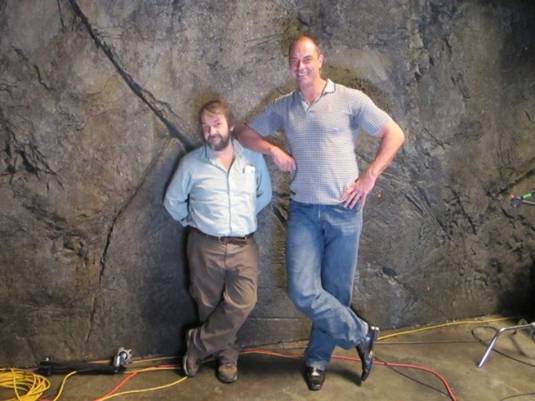 An image Jackson posted of himself and Stevens