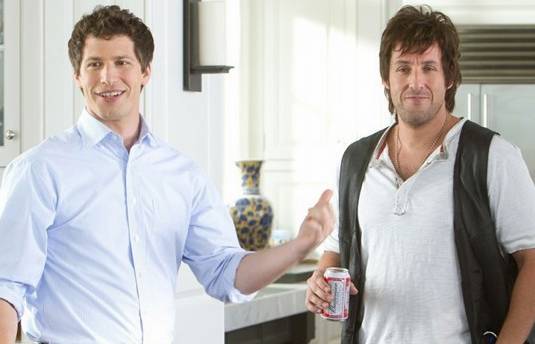 After Columbia Pictures leak the red-band trailer last week, now comes along the green-band trailer, which means you can watch it at work if you work in a place that doesn't mind that you watch Adam Sandler's previews on the company's dime.
Okay, we've got it and the added jokes actually work well. We learn just how an immature and irresponsible father (Sandler) had his son (Andy Samberg) at such a young age and some of the terrible things he did while parenting — including an awesome tattoo; the father who seeks out his successful son to help pay off his debts.
I would be surprised if I'm not laughing all the way through.
James Caan, Susan Sarandon, Eva Amurri, Milo Ventimiglia, Will Forte, Colin Quinn, Todd Bridgest, Vanilla Ice and Ian Ziering also star.
That's My Boy, written by David H. Caspe and directed by Sean Anders and John Morris, is set for a June 15th, 2012 – Father's Day, release.
Check it out below along with a new poster.
[youtube]http://www.youtube.com/watch?v=0dsEZQ1P8rI[/youtube]