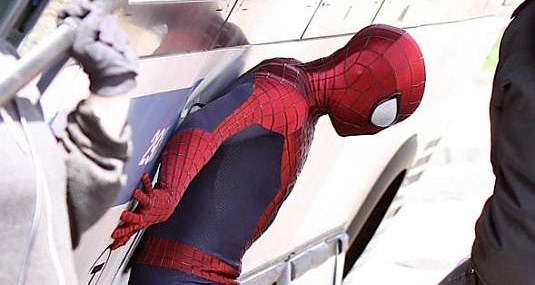 Action time! New set photos from The Amazing Spider-Man 2 have arrived and this time it's all about Peter Parker and Rhino! Head inside to take another look at Paul Giamatti's adidas approved supervillain and Andrew Garfield who (this time) has a very difficult job – to save the bus full of people (and one innocent little girl).
Director Marc Webb stands behind a sequel to the 2012 The Amazing Spider-Man, which is already set to hit theaters on May 2nd, 2014.
Beside the above mentioned duo, the movie also stars Emma Stone as Gwen Stacy, Jamie Foxx as Electro, Shailene Woodley as Mary Jane Watson, Dane DeHaan as Harry Osborn, Sally Field as May Parker and Chris Cooper as Norman Osborn.
For Peter Parker, life is busy. Between taking out the bad guys as Spider-Man and spending time with the person he loves, Gwen Stacy, high school graduation cannot come quickly enough. Peter has not forgotten about the promise he made to Gwen's father to protect her by staying away, but that is a promise he cannot keep. Things will change for Peter when an old friend, Harry Osborn, returns, and Peter uncovers new clues about his past.
As usual – click on all these photos (via Fan-Girl) to take a better look & stay tuned for more updates!