Movie News
The First Act of THE EXPENDABLES 2 Features Arnold Schwarzenegger In Trouble?‏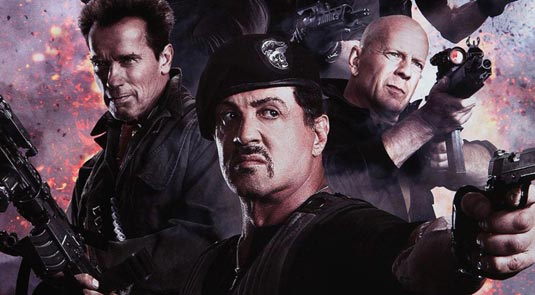 Ok, you're probably totally confused with this title but trust me – I'm confused as well. Like you care about that, hm? Well, here's the thing guys.
When you have such a huge project like The Expendables 2 then you usually appreciate every single rumor you hear or read about. So let's cut the confusion crap and continue with it!
The rumor comes from Japanese Magazine Eiga Hiho (via MovieHole). Apparently Dolph Lundgren answered a few questions for the above mentioned magazine and here are some answers.
First of all, he revealed that an action scene and the conversation scenes of comedy-like actors increase in this sequel. Wait, I like the conversation part, but what about that comedy-thing? It was supposed to be funny even for a minute? Whatever…
Anyway, they also add The Expendables 2 begins with Stallone rescuing Trench (Arnold Schwarzenegger) which became a captive in Burma while Agent Church (Bruce Willis) forces the Expendables to do a new mission afterwards.
There are Arnold Schwarzenegger, Bruce Willis and the scene where Chuck Norris is together.
And in case you're interested in the rest of the cast you're going to love this news.
Apparently Jean-Claude Van Damme and Scott Adkins are on board to play villains, although there are rumors Van Damme will play a position of Steve Austin in The Expendables Part 1.
How does this sound guys?