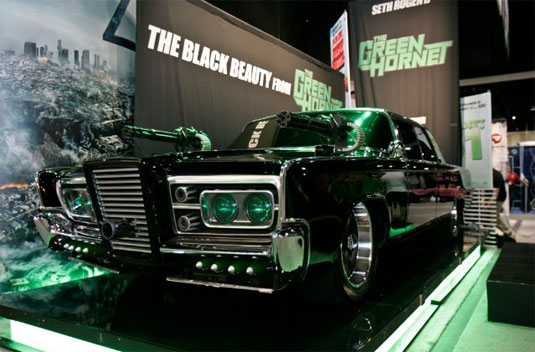 Superhero movie
The Green Hornet
is delayed for a second time – they insist the extra three weeks will allow technicians to add
3D
effects! Actually they say it's not a 3D conversion, like the recent Clash of the Titans, but rather an enhancement to the movie's "great depth and scope." Well, whatever, guys, but at this moment, the most important thing is a fact that this
Michel Gondry
movie, based on the crime-fighting hero of the '30s and '40s, is moved from its planned December 22, 2010, release date to
January 14, 2011
. So, you see now why all those rumors about the troubles and incidents with The Green Hornet production showed up in the first place? The film was initially slated for July 7, 2010, and underwent several shake-ups during the run-up to production, including directorial and casting changes. Of course, Sony's Vice-chair Jeff Blake denyed the whole thing, and said: "It is purely a capacity issue. There are simply not enough digital screens up and running with the theater system to juggle that number of titles" and added: "We're investing more in the film to have it 3D. We love it. We believe in it. We're going to finish 'Green Hornet' in 3D and take nine months to do it right." But, was that really necessary? Think about that, while we give you some basic info about this movie. Ok, we know that this is a superhero action thing, and an adaptation of the radio and television character The Green Hornet. We know already that there is some interesting cast involved:
Seth Rogen
as Britt Reid/Green Hornet,
Cameron Diaz
as Lenore Case,
Jay Chou
as Kato,
Christoph Waltz
as Chudnofsky, as well as
Edward James Olmos, Tom Wilkinson
and
David Harbour
. The screenplay is written by
Seth Rogen
and
Evan Goldberg
, and it's been shot entirely in Los Angeles. And just to show you that January is (maybe) not so bad choice after all, let us mention that December will be a pretty competitive month when it comes to 3D films, including Tron Legacy, Yogi Bear and the first installment of Harry Potter and the Deathly Hallows. It makes sense now? If you're excited about this one, than get ready for January. But, just in case they decide to change something again, make sure you stay tuned, because we'll keep you informed!