Movie Posters
THE INEVITABLE DEFEAT OF MISTER AND PETE Reveals New Poster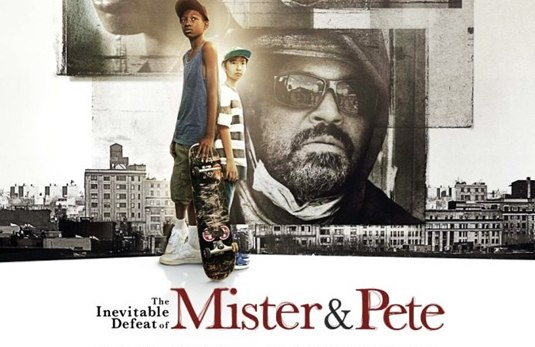 A few days ago we shared an official trailer and images from The Inevitable Defeat of Mister and Pete, hope you liked it? Good, 'cause we're back to add another poster for this promising indie drama which is set to hit selected theaters this October. Starring Skylan Brooks and Ethan Dizon in the title roles, the new poster sends a simple message: only the strong rise above. Head inside to check them out… Directed by George Tillman Jr. , and written by Michael Starrbury, this gritty and heartfelt drama follows two boys who are struggling to survive on their own against all odds in a sweltering summer in New York City. Or, as we previously reported, The Inevitable Defeat of Mister and Pete is a beautifully observed and tremendously moving film about salvation through friendship and the way transformation sometimes can happen just by holding on long enough. Beside the above mentioned duo, the rest of the cast includes Jordin Sparks, Jeffrey Wright, Adewale Akinnuoye-Agbaje, Anthony Mackie, Jennifer Hudson, and the movie is set to open in limited theaters on October 11th, 2013. In case you've missed the official synopsis:
During a sweltering summer in New York City, 14-year-old Mister's hard-living mother is apprehended by the police, leaving the boy and nine-year-old Pete alone to forage for food while dodging child protective services and the destructive scenarios of the Brooklyn projects. Faced with more than any child can be expected to bear, the resourceful Mister nevertheless feels he is an unstoppable force against seemingly unmovable obstacles. But what really keeps the pair in the survival game is much more Mister's vulnerability than his larger-than-life attitude.
As usual – click on the poster to enlarge & stay tuned for more indie-updates!