Movie Photos
The International Poster For Chan-Wook Park's STOKER
Among the highly anticipated films that will premiere at the 2013 Sundance Film Festival is Chan-wook Park's thriller Stoker, one that has been heavily under wraps.
Oldboy director's English-language debut, rounds up a great cast including Nicole Kidman, Mia Wasikowska, Matthew Goode, Dermot Mulroney, Jacki Weaver, Alden Ehrenreich and Lucas Till.
Written by Chloe scribe Erin Cressida Wilson and Prison Break's Wentworth Miller, this chilling mystery movie centers on the deeply dysfunctional family subject matter.
We have already got a new international trailer, and now the first  international poster has debuted over at IMP Awards featuring the three main characters of a good twisted psychological thriller. The poster's international title, 'Lazoz Perversos', translates as 'Perverse Ties' in English and tagline of 'Innocence Ends Here' when altered from Spanish faithfully reflects the emotional and psychological responses Park's upcoming film wishes to evoke.
The  star studded film Stoker will be released on March 1st, 2013.
Head inside to check out.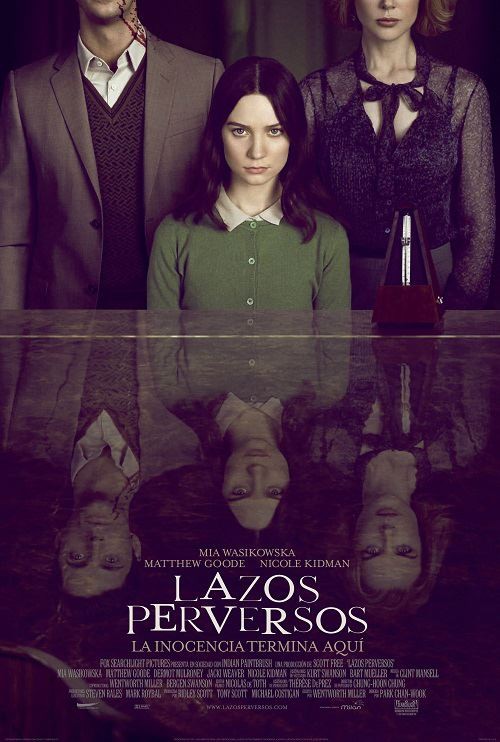 Synopsis:
After India's (Wasikowska's) father dies in an auto accident, her Uncle Charlie (Goode), who she never knew existed, comes to live with her and her emotionally unstable mother (Kidman). Soon after his arrival, she comes to suspect this mysterious, charming man has ulterior motives, but instead of feeling outrage or horror, this friendless girl becomes increasingly infatuated with him.