Movie News
The Iron Lady Starring Meryl Streep and Jim Broadbent New Image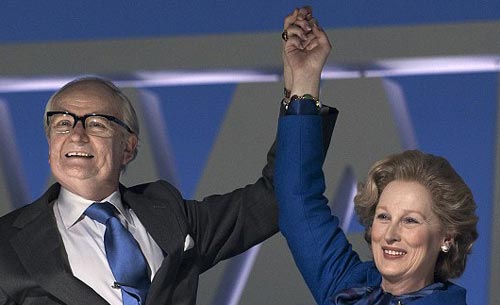 It's been a while since we had a chat about this project, but I'm quite sure you remember that photo of legendary Meryl Streep as Britain's first female Prime Minister Margaret Thatcher in the upcoming Phyllida Lloyd's biopic titled The Iron Lady.
Today, we're here to refresh your memory, by giving you another fresh image from this project, and we're sure you're going to love it.
Based on a script by Abi Morgan, The Iron Lady is the story of a woman who came from nowhere to smash through barriers of gender and class to be heard in a male dominated world. It is a film about power and the price that is paid for power, a story that is both unique and universal.
Here's an official synopsis for the movie: "London, 2008. In her well-appointed apartment, the elderly former Prime Minister Margaret Thatcher prepares breakfast for her husband Denis, as she has every morning of their married life. It's not until Margaret's personal aide bustles in that we see that Margaret sits at the table alone.
Denis is alive only in her imagination. Once described in life as "always present, never there", Denis is still present for Margaret. Is he a loving memory made flesh? A manifestation of her grief? Or perhaps her conscience, taking her to task? Locked in the infuriating inaction of retirement and battling ill health, Margaret is ambushed by memories. Fragments of her private life and of her premiership crowd in to her mind and she relives them in vivid detail.
As she struggles to maintain her equilibrium, Denis teases and needles her. The struggle, the triumphs, the betrayals – in the end, what did she achieve? When all is said and done, was it worth it?"
Movie co-stars Jim Broadbent as Thatcher's husband Denis, Anthony Head as her longest-serving cabinet member Geoffrey Howe, Richard E. Grant as conservative politician Michael Heseltine and Roger Allam as political strategist Gordon Reece. The rest of the cast includes Alexandra Roach, Harry Lloyd and Olivia Colman.
We'll keep an eye on this biopic, so make sure to stay tuned for more updates!