Movie Trailers
The Last Airbender MTV Movie Awards Clip and TV Spot #4
Paramount has premiered a new clip for upcoming film
The Last Airbender
, during the MTV Movie Awards 2010 ceremony. The new TV spot has also arrived online and you can check them both out below. Based on the hugely successful Nickelodeon animated TV series, the live-action feature film is set in a world where human civilization is divided into four nations: Water, Earth, Air and Fire.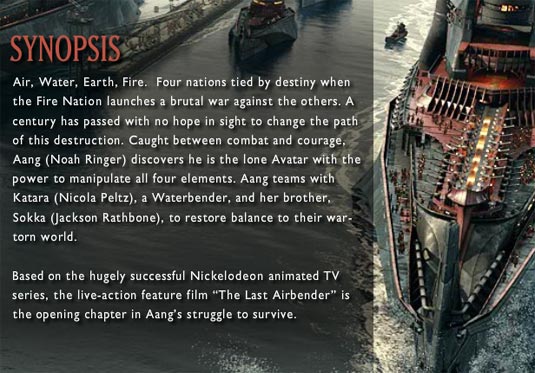 The summer blockbuster, directed by
M. Night Shyamalan,
opens on July 2nd and stars
Noah Ringer, Nicola Peltz, Jackson Rathbone, Dev Patel, Jessica Jade Andres, Aasif Mandvi, Shaun Toub, Cliff Curtis
and
Keong Sim
.
The Last Airbender MTV Movie Awards 2010 Clip
The Last Airbender TV Spot #4
Visit
The Last Airbender
official website:
http://www.thelastairbendermovie.com