Movie Posters
The Sorcerer's Apprentice Poster 3/5: The Sorceress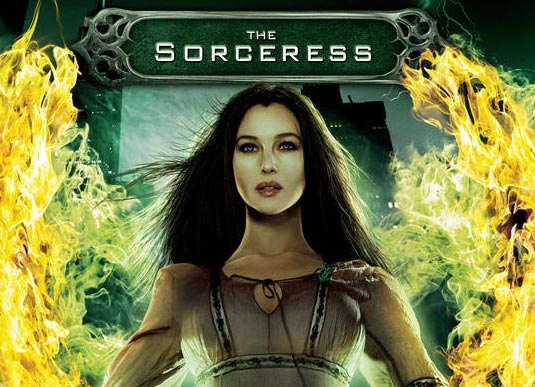 Walt Disney has released the third character poster for
The Sorcerer's Apprentice
that features
Monica Bellucci
's character, the sorceress Veronica. Walt Disney Studios, producer
Jerry Bruckheimer
and director
Jon Turteltaub
, the creators of the National Treasure franchise, present
The Sorcerer's Apprentice
— an innovative and epic comedy adventure about a sorcerer and his hapless apprentice who are swept into the center of an ancient conflict between good and evil. Balthazar Blake (
Nicolas Cage
) is a master sorcerer in modern-day Manhattan trying to defend the city from his arch-nemesis, Maxim Horvath (
Alfred Molina
). Balthazar can't do it alone, so he recruits Dave Stutler (
Jay Baruchel
), a seemingly average guy who demonstrates hidden potential, as his reluctant protege. The sorcerer gives his unwilling accomplice a crash course in the art and science of magic, and together, these unlikely partners work to stop the forces of darkness. It'll take all the courage Dave can muster to survive his training, save the city and get the girl as he becomes The Sorcerer's Apprentice.
Sorcerer's Apprentice Poster, Veronica (Monica Bellucci)
Veronica (
Monica Bellucci
) is a sorcerer who has had the great fortune of being loved by Balthazar Blake-and the misfortune of being loved by Maxim Horvath. "Balthazar and Veronica are willing to do everything for their love," says Bellucci, "and at the same time they're two fighters. Horvath, who, like them, was a disciple of Merlin, also falls in love with Veronica. She rejects him for Balthazar, and because of that he betrays them by aligning himself with Morgana. It's a beautiful and powerful story about love, jealousy and vengeance. The screenplay is by Matt Lopez and Doug Miro & Carlo Bernard from a screen story by Matt Lopez and Larry Konner & Mark Rosenthal.
The Sorcerer's Apprentice,
hits theaters July 14th, 2010. In case you haven't already watched it, check out
The Sorcerer's Apprentice trailer
.