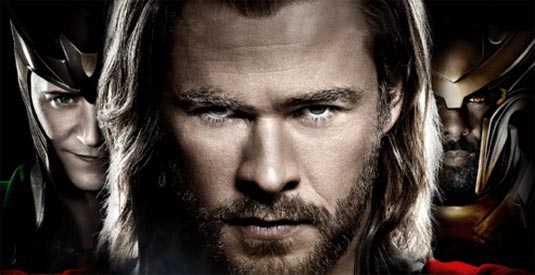 Empire has unleashed two international posters for Thor, Marvel Studios' latest superhero adaptation.
Thor, a powerful but arrogant warrior, is sent down to Earth has punishment for reigniting a reckless war. But after a dangerous villain from his world sends the darkest forces of Asgard to invade Earth, the hammer-wielding Thor will learn what it takes to be a true hero in order to save mankind.
Directed by four-time Academy Award-nominee Kenneth Branagh, the film stars Chris Hemsworth, Natalie Portman, Tom Hiddleston, Anthony Hopkins, Rene Russo, Stellan Skarsgard, Jaimie Alexander, Kat Dennings, Ray Stevenson, Josh Dallas, Tadanobu Asano, Idris Elba, Clark Gregg, and Colm Feore
Thor will be released to theaters on May 6, 2011.