Movie News
THOR: THE DARK WORLD Explored: Marvel Studios Exec Talks The Sequel's Vision Of Asgard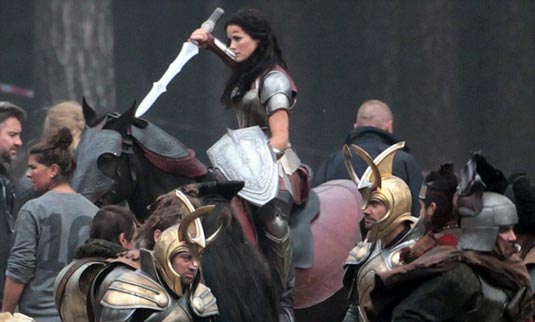 Thor: The Dark World certainly is much-anticipated – recently, further details were released regarding the sequel to Kenneth Branagh's immensely successful Thor adaptation. The sequel will be directed by Alan Taylor (of the Game Of Thrones), and reportedly will offer a new and different take on the realm of Asgard – among other things. Marvel Studios Executive Producer Craig Kyle discussed the film and its director in a recent interview with Empire:
By bringing director Alan Taylor into the mix, with his expertise on 'The Sopranos,' 'Mad Men' and 'Game of Thrones,' we came up with a take that allows us to get more into the nooks and crannies of Asgard and its people. We spend more time on the ground with the commoners, as opposed to in the palace.
Kyle continued on, discussing the nature of the "Superhero Movie", and the unique appeal of the Thor universe:
Like in Indiana Jones, while there's high stakes and high danger, there's always fun. We have to constantly redefine what a superhero film is or it'd just exhaust the audience. So Iron Man is the James Bond-y, classic, suave action hero; Captain America's the period piece; Hulk is the monster movie; Avengers the disaster movie; and Thor is the science-fiction epic. It's a very complicated blend [of genres: high science fiction, gritty fantasy, and realism]. Thor is, until Guardians of the Galaxy hits, by far our most wild, fringe Marvel piece. But that's why it's the Marvel Universe and not Marvel Earth!
According to Kyle, Thor: The Dark World begins with a war-torn Asgard, and the Nine Realms besieged "by rag-tag invaders known as The Marauders", led by Mister Sinister. This leads to an opportunistic attack by the Dark Elves, led by Malekith the Accursed (Christopher Eccleston). Thor: The Dark World is scheduled for release in 2D and 3D on November 8th, 2013, and stars Chris Hemsworth, Natalie Portman, Tom Hiddleston, Jaimie Alexander, Stellan Skarsgard, Idris Elba, Adewale Akinnuoye-Agbaje, Kat Dennings, Ray Stevenson, Zachary Levi and Tadanobu Asano, with Rene Russo and Anthony Hopkins.