Movie News
Toni Collette Reunites with Muriel's Wedding Director PJ Hogan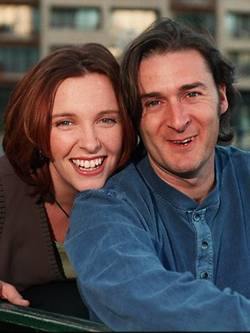 His first big hit was the 1994 Muriel's Wedding for which she was nominated for a Golden Globe Award for Best Actress. In screenplay he incorporated a number of events from his own life and that's exactly what he is going to do again. Yep, repeat business leads to success – Toni Collette is again teaming up with PJ Hogan to star in his new comedy Mental.
Hogan, who penned the script based on his own experiences, said:
Like Muriel's Wedding, Mental is a comedy, but a comedy based on reality, laced with pain and brimming with flawed but lovable characters."
He added:
Shaz (the central character Collette will play) was hilarious, outrageous, dangerous, courageous, inspiring, heartbreaking and totally, totally mad. And she changed my life."
The storyline centers on the Moochmore family – father and local politician Bruce, his five daughters, and their hot-tempered nanny.
Mental is also Hogan's first Australian movie since Muriel's Wedding. (He left for Hollywood to direct My Best Friend's Wedding and Confessions of a Shopaholic e.g.)
The new Mental role is well-timed, seeing that last week it was announced Collette's TV show United States of Tara was cancelled.
The Federal Government's key funding body Screen Australia announced it is investing in the production of Mental:
PJ Hogan is a hugely talented filmmaker whose studio-financed films have grossed in excess of half a billion dollars and attracted a consistent level of critical acclaim. Add into the mix the delicious prospect of PJ teaming up again with Toni Collette, one of Australia's most gifted comic actresses, and we look set to see a wildly entertaining film"
chief executive Ruth Harley said in a statement. The film will begin shooting in Australia in January.
Watch Muriel (Toni Collette) and Rhonda (Rachel Griffiths) perform Abba's Waterloo from the Muriel's Wedding.
[youtube]http://www.youtube.com/watch?v=3U4kDzwZAMk[/youtube]
Muriel's Wedding – Waterloo
Watch trailer for Fright Night, an upcoming 3D horror film directed by Craig Gillespie, starring Toni Collette along Anton Yelchin and Collin Farrell, and scheduled for release on August 19.
[youtube]http://www.youtube.com/watch?v=rrdYC-YKkJs[/youtube]
Fright Night Official Trailer