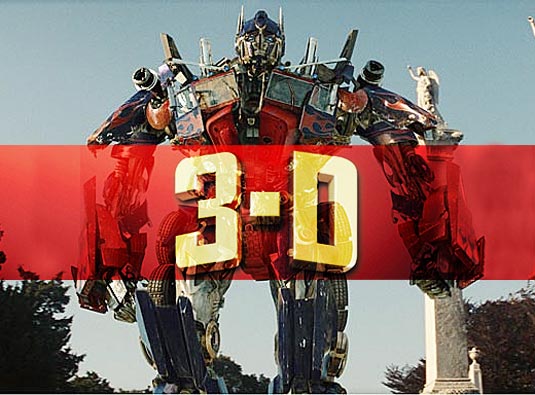 When director Michael Bay talked about "Transformers 3" last year, he was adamant that the 3D "gimmick" wasn't for him but now, according to Variety, Paramount and Industrial Light & Magic is considering producing "Transformers 3" in 3D. But there is a problem. There is extra time required to do production and visual effects in 3D, and with the release date already set for July 1st, 2011, that could be a problem. Bay:
The way I shoot is too aggressive for 3D cameras. It's a time-consuming thing. Who knows… it might be a fad. I'm kind of old school. I'm old school because I like to shoot on film. I like anamorphic lenses, and that is old school.
Michael Bay and Steven Spielberg worked together on the plot for the next chapter. In similar news, Warner Brothers has confirmed that all of the following films will be in 3D:
Clash of the Titans (April 2nd)
Cats & Dogs: The Revenge of Kitty Galore (July 30)
Guardians of Ga'Hoole (Sept. 24)
Harry Potter and the Deathly Hallows – Part 1 (Nov. 19)
Harry Potter and the Deathly Hallows – Part 2 (July 15, 2011)
Do you care one way or another if "Transformers 3" is in 3D?