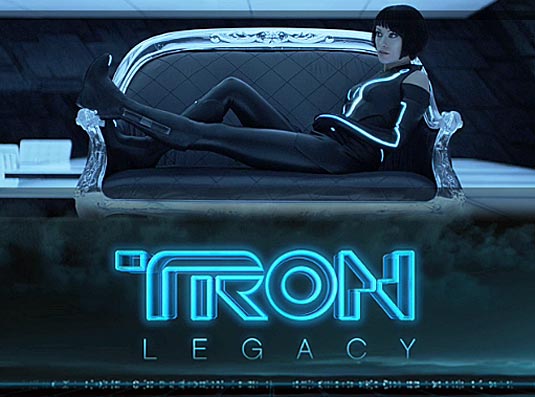 Walt Disney Pictures  has released the teaser trailer for
Tron: Legacy
that played in front of Tim Burton's
Alice in Wonderland
this past weekend.
Tron: Legacy
, the sequel to the 1982 sci-fi classic, is set in a digital world that's unlike anything ever captured on the big screen. Sam Flynn (Garrett Hedlund), the tech-savvy 27-year-old son of Kevin Flynn (Jeff Bridges), looks into his father's disappearance and finds himself pulled into the digital world of Tron where his father has been living for 25 years. Along with Kevin's loyal confidant Quorra (Olivia Wilde), father and son embark on a life-and-death journey of escape across a visually-stunning cyber universe that has become far more advanced and exceedingly dangerous. The 3D adventure is directed by
Joseph Kosinski,
the script is penned by Edward Kitsis, stars
Jeff Bridges, Garrett Hedlund, Olivia Wilde, Bruce Boxleitner, James Frain, Beau Garrett
and
Michael Sheen
.
Tron: Legacy
is set to hit theaters on December 17th. Check out the trailer below and be sure to let us know what you think.
Download Tron: Legacy HD-Quality 1080p
[1920 px] trailer − 191 Мb (QuickTime)
Download Tron: Legacy HD-Quality 720p
[1280 px] trailer − 139 Мb (QuickTime)
Download Tron: Legacy HD-Quality 480p
[852 px] trailer − 74 Мb (QuickTime)