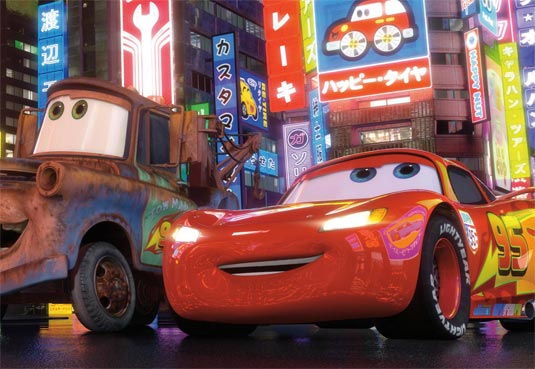 Two new images from Disney-Pixar's
Cars 2
have been released online. In the film, star racecar Lightning McQueen (
Owen Wilson
) and the incomparable tow truck Mater (
Larry the Cable Guy
) take their friendship to exciting new places in "Cars 2" when they head overseas to compete in the first-ever World Grand Prix to determine the world's fastest car. But the road to the championship is filled with plenty of potholes, detours and hilarious surprises when Mater gets caught up in an intriguing adventure of his own: international espionage. Torn between assisting Lightning McQueen in the high-profile race and towing the line in a top-secret spy mission, Mater's action-packed journey leads him on an explosive chase through the streets of Japan and Europe, trailed by his friends and watched by the whole world.
Cars 2, Larry The Cable Guy's Mater, Finn McMissile and Holley Shiftwell. The sequel also stars
John Ratzenberger, Bonnie Hunt, Tony Shalhoub, Cheech Marin, Michael Caine, Emily Mortimer
. Cars 2, directed by
John Lasseter, Brad Lewis,
is scheduled to hit theaters on June 24, 2011 and it will be available in 2D, 3D, and IMAX 3D.
Cars 2, Mater, Finn McMissile, and Lightning McQueen