Two new posters for the upcoming animated "
Star Wars: The Clone Wars
" has been released.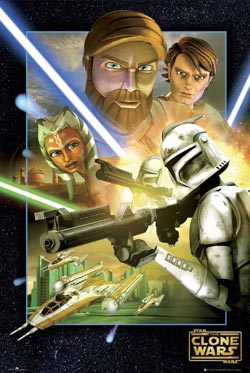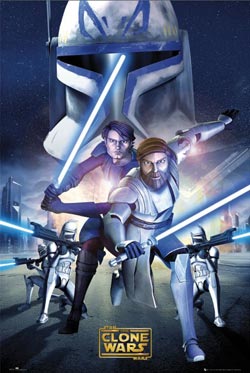 On the front lines of an intergalactic struggle between good and evil, fans young and old will join such favorite characters as
Anakin Skywalker
,
Obi-Wan Kenobi
and
Padmé Amidala
, along with brand-new heroes like Anakin's padawan learner,
Ahsoka
. Sinister villains – led by
Palpatine
,
Count Dooku
and
General Grievous
– are poised to rule the galaxy. Stakes are high, and the fate of the "Star Wars" universe rests in the hands of the daring
Jedi Knights
. Their exploits lead to the action-packed battles and astonishing new revelations that fill "Star Wars: The Clone Wars." The new movie will appear in theaters on August 15th and will set up an animated series that will premier on Cartoon Network in the fall.